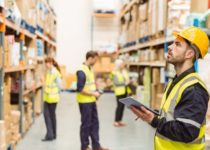 Outsourcing has long been recognised as a great way to streamline business functions and bring budgets down. When it comes to warehousing, there are plenty of benefits, financial and otherwise, to taking advantage of the opportunities that an outsourced service offers. From cutting costs, to boosting efficiency that has a knock on effect on margins, outsourced warehousing is a gift to a business looking to make a positive change.
Cut your capital investment
If you outsource your warehousing then you don't need your own premises, which instantly cuts a whole range of costs, from utilities to rent and maintenance. For those businesses just starting out there is the benefit of avoiding the up front cost of setting up in-house warehousing – which can run into dizzying numbers. If your business could benefit from capital investment elsewhere then freeing up cash flow in this way can be hugely beneficial and will take the stress of your finances.
Pay for what you need
It can be incredibly depressing to watch the enormous payments going out each month to keep warehousing in-house while stock either doesn't move or shelves remain empty. The flexibility of outsourcing warehousing means that you can only pay for what you need – choose a flexible supplier and the resource will be there when you want it and won't be a drain on your resources when you don't.
Coming together to share the cost
As with every outsourcing model, outsourced warehousing spreads the cost between many different parties, instead of you bearing all those costs yourself. This is simple economics – the more people who pay towards a single overall cost, the lower that cost becomes for each of the people involved. With the right supplier there should be no dip in quality accompanying the dip in cost – in fact, the best suppliers offer a service that is faster, more up to date and more secure than an individual business could potentially fund under their own steam.
Reduce spend on equipment
When you outsource warehousing, all the costs are included in the price that you pay. So, you don't need to worry about the equipment the warehouse will need to function safety and effectively, from the forklifts to the pallet racking. If you're bearing the cost of these individually they can be huge, particularly when you factor in the need to maintain and repair, as well as eventually to replace. With outsourced warehousing there is no equipment spend to consider – and no spike in costs to cover something like an unexpected repair or replacement.
And the rest
As well as the obvious drain on cash flow that warehousing can present, there are numerous other benefits to choosing to outsource this function that have a subtle impact on financials. For example, outsourcing warehousing means using specialists who can introduce efficiencies and make suggestions to your processes that have knock on positive effects. The opportunity to link up warehousing and delivery with an outsourced supplier can streamline services. Plus, you free up staff time that might previously have been spent on operating the warehouse and complying with health and safety responsibilities, leaving everyone to focus on the core activities of building the business and moving it forward.
Give UCS a call today to find out more about our warehousing services, on 08448 793229.