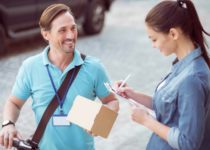 As more and more consumers shift their shopping from the real world to online, delivery has become a crucial part of the experience. According to the UK's communications regulator, in this country we spend more money online per head than any other developed country. Research from OC&C Strategy Consultants, PayPal and Google has found that British shoppers already spend almost £1 in every £5 online and online sales are predicted to double by 2018. This means that delivery has become a key focus and one where customer expectations need to be met. So, what delivery details do businesses need to bear in mind?
Delivery can make or break a purchase
Around 50% of online shoppers will abandon their basket if they don't find the delivery option that suits them, according to expert estimates. If there is no delivery option that works for a consumer that consumer is highly likely to start browsing a competitor website to see if they can find the same product with the right delivery. So, delivery can be a crucial obstacle or enabler to selling.
Consumers want choice and certainty
In general, the most successful retailers are those that are able to offer more than two delivery choices. Consumers don't just want the perfect product they want it delivered in a way that suits their lifestyles too. The most important factors in creating an appealing delivery process are: the option of next day delivery and the ability to set a specific date for delivery.
Flexibility reaps benefits
Customers tend to be more loyal to those brands that give them the flexibility to get what they want, when they want it – rather than having to conform to the store's schedule. So, for example, those online stores that offer a later cut off point for next day delivery tend to be more popular than those that don't. Most online stores set their next day delivery at 2pm but those that can offer a later time are giving customers more flexibility to accommodate their changing needs and so are more appealing for repeat purchases.
7 days a week
There's no doubt that delivery expectations have shifted hugely and the main reason for this is that 10 years ago we ordered far less. Whereas, in days gone by, a customer might order one purchase a month and be happy to receive it at the time that worked for the retailer, now one consumer could be ordering 10 items a week. As a result, customers now expect to be able to choose delivery days – including Saturdays and even Sunday. Delivery services now need to accommodate customer lifestyles, including the fact that, for most people, it's easier to take a delivery at the weekend.
Improving on the high street
Although online is a very different environment to a high street shop consumers still expect their experience to be as considered and attentive – if not, more so – as buying in a store. This means accessible and swift customer service, easy check out, and a personalised service, as well as the advantage of fast, trackable delivery without leaving the house. Those stores that better both their online competition and the high street will win a bigger share of the future market – and the delivery experience plays a key part in that.
Delivery demands have changed dramatically and retailers need to adapt to survive.  A positive delivery experience can create good reviews and customer brand ambassadors who return again and again.
UCS are experienced in meeting the varied delivery requirements of all of our customers – see how we could meet your needs by giving our team a call today on 08448 793229.