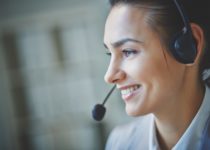 The level of customer service received has the power to improve or break customer relationships. A bad experience can lead customers to seek products or services elsewhere. In an age of social media and sharing reviews online, a negative review can leave your brand name tarnished, so it's imperative that you deliver great customer service to keep your customers happy! However, customer service that is proactive is not just about avoiding issues, it can also bring a number of benefits.
Benefit #1 – Keeping customers informed
What is proactive customer service? Proactive customer service means taking a customer-centric approach to deliveries and giving them the ability to interact about their order. Instead of simply providing a link for your customers to track their order themselves, UCS are taking the lead with proactively updating recipients of the status of their delivery as it is ordered, dispatched and out for delivery, through regular messages but also over the phone. They take time to personally get in touch to update customers, which creates a culture of openness and keeps customers feeling informed about their order and gives them peace of mind that everything is being taken care of.
Benefit #2 – Cost effective time savings
Your customers also save time and money since they can relax knowing their order is on its way, so they can carry on with the normal tasks that they need to during the day. No one has to waste time waiting to see whether a courier will turn up during the day, since they will know the estimated delivery time and receive updates regularly. This costs very little your delivery company to email or send a text message your customers but saves them a lot of effort whilst creating great customer satisfaction and a positive brand image. This is an example of how simply being proactive with your customer service generates large rewards.
Benefit #3 – Positive brand awareness and promotion
Ultimately the better customer service you are able to provide to your customers, and the more proactive you are in your approach, the more positive the experience they will have. This often leads to positive promotion, either online via social media, or through discussion with others in person, all of which is promotional for your brand and creates positive brand awareness that can lead to further sales in future.
Benefit #4 – Faster problem resolutions
Proactive customer service also leads to faster resolution of any problems that do occur during the order to delivery process. Large courier companies are often tied into strict processes that they must follow when escalating customer issues, which can drag out the problem and cause further unnecessary delays. UCS deals with issues directly to ensure that all issues are escalated straight away, which reduces the time taken to get to a resolution. This is a great example of how our proactive approach ensures that we are able to get answers quickly and deal with issues directly to make sure that your customers are always able to receive the fastest solution possible.
UCS takes a proactive approach to customer service
UCS pride ourselves on delivering proactive customer service, to ensure that we create the best possible impression. We don't have any call centres, and this means that we always speak directly with our customers to build rapport and deliver the best possible solution. Putting things at the centre of our approach that are important to our customers allows us to deal with issues effectively and give the most proactive customer service.
Why not give our customer service a test for yourself today by calling 08448 793229 to speak directly to one of the UCS team.