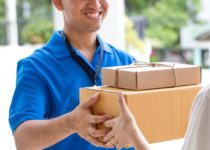 Delivery services give a strong impression of your business, positive or negative, so for small businesses looking to grow their customer base it is extremely important to ensure that your delivery services are successful. Great delivery services give your customers a positive brand impression which means that they're more likely to buy from you again or recommend you to others. If you're not sure what this looks like in practical terms, here are 5 ways that small businesses can improve their delivery services:
#1 – Use automated systems
One of the best things that small businesses can do for their delivery services is to implement automated systems such as automated labelling, and sorting of parcels within the warehouse. This can minimise human error such as when items are put in the wrong place for delivery, or addresses are not quite correct. Automated systems are useful for preventing these errors and ensuring that your customers' deliveries are delivered as quickly and efficiently as possible.
UCS can offer API and online services where tracking info is fed back to our clients' websites and therefore reduces the manual work they have to do to track parcels. The API will feed tracking info back to their website for their customers to see where the goods are. This means they will have more time to spend offering a real high level of Customer service on a few jobs that require it instead of dealing with multiple tracking requests etc.
#2 – Put step-by-step processes in place
Step-by-step processes are vital to ensure that all shipments are packed, shipped, tracked and then finally delivered successfully without any delays. Keeping a list of steps that must be followed every time an order is made allows some elements to be automated where possible, and prevents any orders being missed. It increases the overall efficiency of the management of each order, to also guarantee the fastest delivery times to the customers of small business
#3 – Tracking and customer communication
Communication is key at each stage of order to delivery for your customers. Customers are often looking for tracking to be available and this visibility is often offered by larger companies. In order to compete with larger competitors, small businesses should also try to offer online tracking where possible, and this helps to develop greater trust with customers. Another part of this communication is updating your customers, through email or via text, or even a phone call, should there be any change in the delivery time. This is useful not only where there are issues, but generally for maintaining a culture of openness and proactively serving your customers throughout the delivery process.
#4 – Training staff in high quality customer service
Another equally important part of improving your small business' services is training your staff to develop strong customer service skills. This can be both in a practical way, but also in the way that they deal with customers when taking their orders and discussing the product/services you offer. Helpful and personable staff who are able to answer questions that they might have, or simply just being polite, will be strong brand ambassadors for your company.
#5 Outsourcing delivery services
As a small business it can be difficult to meet all of the above demands, especially when your resources in-house are limited. Sometimes it can be more cost-efficient and allow you to offer greater delivery services to your customers, such as outsourced warehousing or delivery courier services. For example you can benefit from automated technology that your company may not otherwise be able to afford, and utilise already established delivery routes and shared delivery services.
If you're a small business looking to improve your delivery services, give UCS a call today on 08448 793229.