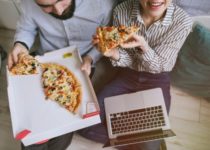 In Michigan, USA, Ford has partnered with Domino's Pizza to test the idea of using driverless cars for their pizza deliveries. If successful, this has the potential to mark the beginning of the move towards driverless delivery services, with other companies choosing to follow this success and benefit from using driverless cars to deliver to their customers.
How are they testing driverless cars?
The test will be taking place over the next few weeks, where customers will be given the chance to opt to have their pizza delivered by one of the Ford Fusion Hybrid autonomous vehicles, if they are randomly selected to do so. These cars will be driven with the customers' orders by a Ford safety engineer who will be overseeing the driving process and taking over control where required, whilst the vehicle is in a simulated autonomous mode.
The purpose of the driverless delivery test
At this stage, driverless technology is still at a trial phase, as driverless cars are not ready for the roads, so the purpose of this is simply to test the customer reaction to this type of delivery. Customers will be able to track their order using an app, with a code that they can use to confirm their order on delivery, by coming out to the car to pick up their order – which is different from the traditional delivery to the customers' door. This is a significant difference that customers will need to get used to if driverless technology continues to grow.
What are the benefits of driverless cars?
The benefits of driverless cars for businesses making deliveries of any goods to their customers is that it could potentially cut costs since drivers are not needed to make the deliveries. For companies across all sectors, their method of delivery is extremely important, and driverless deliveries could also offer high security levels by requiring a code to release the order to the customer upon delivery.
The biggest concern to companies is that there will be a loss of human contact, which a face-to-face courier service brings. There is no way for driverless deliveries to make this friendly contact in the same personal way as an actual driver.
Delivery tailored to your business
UCS work with our clients to establish the best delivery options for them, to align with their customers' demands. We work hard to continually develop our delivery services to provide the best possible services at all times.
Find out more by giving us a call today on 08448 793 229.