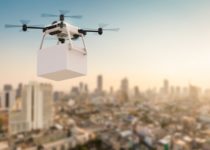 Drone delivery is something that is getting more and more traction in the media over time, with large corporations starting to implement the basic testing for drone deliveries for e-commerce. However, it is still a very new technology, which many companies have yet to test and explore.
What is drone delivery?
Drone delivery involves sending a drone remotely to the location of delivery carrying the ordered item or items to the customer.  Current statistics suggest that around 30% of customers would be satisfied for their delivery to be made by drone – although around 22% had questions as to the accuracy of delivering to the right location, or how heavy the packages could be before the drone was unable to carry their order.
Why are companies looking into drone delivery?
The main benefit of drone delivery is the directness and speed at which the order will be received. This is undeniably something that many customers will be looking for, and for small parcels that are needed quickly, drone delivery could cut delivery speeds to a fraction of the current time since they can be flown direct on the same day in many cases.
Questions about drone deliveries
There are still a number of concerns that customers have about drone delivery, one of which is that drones would not be able to carry large or heavy parcels, or huge orders. At the same time, customers also suggested that they would be worried about the safety and security of their order being delivered by drone, which could be easily intercepted. The practicalities of drone delivery mean that delivery via couriers and shared delivery services will not yet be rendered obsolescent.
Meeting customer requirements with delivery
Alongside the need to continuously evolve and develop with new technology, the most important thing for product-based companies is to meet their customers' requirements in terms of delivery. For example, the majority of their customers might prefer next-day delivery services, or the option to arrange dedicated courier services. Drones are still a new innovation when it comes to delivery, and UCS pride ourselves on keeping up-to-date with the latest ideas to ensure that we offer the greatest possible delivery options.
UCS are experts are providing fast, efficient and secure delivery services on behalf of our customers. Give us a call today on 08448 793 229 to discuss your requirements and what your customers are looking for.