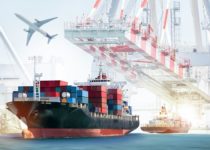 Connectivity is growing across the world and international delivery is now a standard expectation for many customers. However, there are many different methods of international shipping, depending on the preferences of the customer, as well as the requirements for shipping the item safely.
What factors influence the shipping method you choose?
A variety of factors will influence the shipping method that you choose for your products, for example the size and dimensions of the parcel once packaged, as well as the weight. The fragility of the parcel, such as breakable items, and any clearances needed for customers will also need to be taken into account. Another consideration is the distance that the parcel needs to travel in a set time. So what are the different services and how can you choose the one that best suits your consignment?
Road freight services
Road freight is something that can be utilised mainly within Europe, whether the consignment is large or small. In fact, UCS offers road freight services based on either the combined weight of items, or per item, whilst dedicated services can be made from one single vehicle where there are stricter time constraints for the delivery. Road freight delivery offers the ultimate convenience of door-to-door delivery, and it is also the most economical international shipping option.
Air freight delivery
Perhaps the biggest benefit of air freight delivery over other international shipping methods is the speed at which your consignment can be delivered. For customers seeking the fastest possible delivery, air freight offers the quickest overseas delivery, and transit times being shorter also reduces the risk of theft, loss or damage during the transportation process. Costs can be saved since space is shared with other consignments, which in turn reduces the shipping cost passed onto your customers.
Shipping via sea freight
Although sea freight takes a longer shipping time, it can significantly reduce costs, especially since it offers less taxation. It also reduces the chance of delays or issues throughout the journey, so for repeat, bulk orders, shipping via sea is often the best option.
Specialised courier services
For orders that are required to be made both quickly and securely, specialised courier services can be the way forward. Trained couriers are assigned specific deliveries and personally responsible for the successful, safe and secure delivery to the recipient. This is the best possible way to send your consignment if it contains highly sensitive information, or needs to be delivered at a very specific time, the additional cost can be useful to guarantee the delivery at the perfect time.
Rely on a trusted delivery specialist
UCS specialise in international shipping as well as national delivery services. To find out what services we could offer your business to provide the best delivery options to your overseas customers, get in touch with UCS today on 08448 793229.