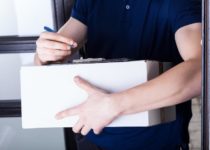 Regardless of the sector that you work in, sometimes you may have customers place orders that are highly confidential or require more specific treatment than your standard deliveries. Perhaps the order is of an unusually high quantity or value, and needs greater tracking and certainty of delivery. There are many ways to ensure that your customers are able to place orders with you, knowing that you are able to offer the security and certainty of delivery on time and in perfect condition. Here are just some of these ways:
Personal management of the order
If your customer has placed an order with you, it is your duty to ensure that good arrive within the timeframe expected, in perfect condition and that the customer can have certainty that the security of it has not been compromised. This is particularly important for electronic items and orders of goods that could be dangerous if tampered with at any point. One way that you can give your customers peace of mind is by providing them with an account manager to personally manage their orders. This means that they are able to ask for them and get information related to their order at any time, and that their account manager can personally take responsibility for the item arriving as it should, down to contacting the courier directly if required.
International tailored services
For international orders, there can be arrangements made for loyal customers or those who have made bulk orders, where a courier can even travel with the order throughout its entire journey. Alternatively, the fastest and most secure way to send a specific order is sometimes using a dedicated vehicle that is paid for within the delivery costs. Orders can also be delivered on a prioritised basis for faster delivery – all of these additional services cost, however customers are normally willing to pay extra for these guarantees if they require them.
Rely on delivery specialists
The fact is that the professionals can often offer a greater service. Specialised logistics companies may have greater resources to ensure secure, timely delivery of your customers' orders in a way that is simply not possible in-house. Outsourcing this can give your customers the best possible service at all times.
How does UCS do it?
UCS specialise in making deliveries on behalf of our clients across many different locations worldwide. Our service range from simple delivery options using our trained, professional couriers, to fully managing logistics solutions. Our clients can rest assured that their customers' orders are delivered with the highest levels of security and guaranteed to arrive exactly as expected. If you're looking at the possibility of outsourcing your deliveries, get in touch with UCS today on 08448 793 229 or take a look at some of our customer testimonials.