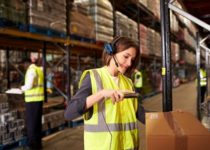 As warehousing requirements grow, it can be difficult to keep up with increased demands and get each and every order packaged and dispatched as soon as possible. Management of orders right through to sending them out can be made easier using advancing technology and mobile systems which can make the whole process much more efficient.
Receiving and labeling orders
It's imperative that an order is labelled as soon as it is received. This immediately matches the item to the order, and ensures that the order is tracked from the beginning. This can mean scanning an existing label or adding a new one with a bar code so that it can be scanned and then followed throughout its journey to ensure successful delivery.
Mobile printing technology can significantly reduce the time this takes, as labels can be printed on the spot, and this is also likely to increase the accuracy of orders being labelled as they can be done at the time to correlate with the correct parcel.
Mobile storage and management solutions
Mobile scanning devices make warehouse stock management and storage much easier, too. Transactions can be scanned by workers in real time, and following moves around the warehouse or dispatches can be tracked as they occur and are scanned into a warehouse management system.
Mobile, wireless scanners make this process simpler by allowing warehouse staff to move around easily and scan the necessary parcels, without heavy or large equipment, and without having to move the parcels to a single location to scan and then moving them back again, which leaves room for error. This is not only more efficient, but it can also mean that low stock becomes obvious quickly, so that it can be replenished with plenty of time to spare.
Picking made easier
Speed and accuracy within warehouse management can make the overall warehousing process much more efficient. However, when large orders come in amongst small orders, mobile solutions can make a huge difference to the overall processing time. Since items can be scanned and logged individually and from any location in the warehouse, this reduces any backlog and allows the process to run smoothly. Workers can move around the warehouse freely and scan items using a small mobile machine, which makes it more manageable and much faster.
Mobile makes shipping faster
Overall, the use of mobile devices can make the whole warehousing and shipping process highly efficient. Scanning is able to take place on arrival or where pallets are built, which saves space for packing and shipping and speeds up the process. This is especially useful if there is a fast turnaround time such as next-day delivery, and it increases the accuracy of packaging/shipping as well as the overall efficiency for customer reporting.
Every business will have slightly different requirements, but the more efficient the warehousing, then the more satisfied customers you will have as you will be able to offer a higher quality of service.
Find out more today by giving UCS a call on 08448 793229.