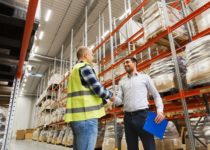 Typical supply chain structure has changed dramatically over the past 25 years, shifting from a large number of suppliers to a smaller, select group than can be managed directly and supervised easily. Using a smaller handful of suppliers makes overall communication much easier and more efficient, and helps you to ensure that you work with the most reliable and consistent suppliers. Whatever you choose to do, it's important to ultimately stay in control of your supply chain in order to manage it effectively.
Maintaining control
Working with the same suppliers can often mean that you can get the best discounts and cost-effective solutions too, since methods can be chosen according to your requirements. However, it's important to ensure that you maintain control of your supply chain at the same time, as it can be better not to be reliant on too many others, and it's also essential that you have peace of mind that your customers will be receiving their orders on time and in perfect condition.
Complete supply chain management
Many companies are unable to manage such vast procedures in-house, which is why UCS offer complete supply chain management for their customers. They are able to fully manage the whole supply chain where required, from warehouse management to deliveries and courier services, both on a national and international scale. Industry insight for transportation and exportation of products also means that routes are established and connections already in place to ensure that deliveries are made within the promised time frame for your customers.
Cost assurance
Partnering with one supply chain manager, rather than relying on a range of other companies, allows you to better control costs. This means that you can minimise delivery costs both internally and pass this cost saving onto your customers to offer the best possible prices. Partnering with a single supply chain manager like UCS will mean that costs are minimised as your deliveries can be made alongside other customers' orders, so transport is shared. Guaranteed, reliable delivery times combined with cost assurance gives you control of the options that you offer your customers for delivery services, and the prices that you charge for varied choices.
Environmental responsibility
Corporate social responsibility is regarded as increasingly important by both businesses and customers, who care about the environmental and social impact that they have. Managing your supply chain centrally can help to manage the environmental impact you have, since transportation methods can be shared and therefore reduce the impact per order. Fleets of vans can be shared, and UCS work with a range of customers from different locations to share deliveries and minimise overall environmental impacts. This helps companies to take control of minimising waste, and having a positive impact on the world around them.
Take back control of your supply chain today by giving UCS a call on 08448 793229.