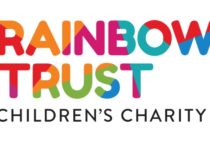 Over the Christmas period, UCS always likes to do our bit to bring some festive cheer and joy to others who are in need. One of our customers, Epicor Software Ltd, chose this year to donate Christmas presents to the Rainbow Trust charity.
About the Rainbow Trust
The Rainbow Trust is a charity based in Southampton that offers specialist support families with children who have life-threatening illnesses. Around 49,000 children across the UK aged between 0-18 years old currently suffer from life-threatening or terminal illness and require palliative care, with families having to cope with the fact that they are likely to face the loss of their child.
The Rainbow Trust provides support for these families, including parents, siblings and extended family through our team of Support Workers. They are able to help with taking other siblings on day trips, or simply helping with the practical areas of life that have become more difficult like the school run or cooking, cleaning and household tasks. Bereavement Support is also offered to those families who do sadly lose their loved ones.
Who are Epicor Software Ltd?
Epicor Software Ltd are longstanding customers of UCS, and we have been delivering for them over the past 10 years. Epicor provide ERP solutions to drive business growth. This year, as part of their annual giving, they put together a selection of Christmas presents for the children supported by the Rainbow Trust to be delivered over the Christmas period.
What have UCS done to help?
UCS recognises that the Rainbow Trust is an extremely deserving cause and we were honoured to play our part by offering to deliver the presents by designating a vehicle, free of charge, on behalf of Epicor. We have worked with Epicor for 10 years and are happy to be of assistance where possible with their charity work.
Stay up to date with all the UCS are doing by reading our blog or give us a call to discuss your own logistics requirements on 08448 793 229.