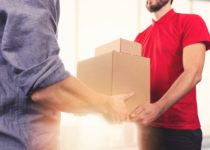 When you're running a business, operational efficiency is always going to be a key priority. The way that the different elements of your business operate will have a big impact on outcomes such as profit and productivity. If your business is involved in shipping product then there are all sorts of issues of cost, service and risk tied up in how this is managed. And if you're looking to achieve better operational efficiency, outsourcing this part of the process could help you to reap impressive rewards.
Reliable shipping
Outsourcing deliveries means entering into a professional relationship that is defined by minimum standards of service. If you're currently managing all the shipping in-house then you could be providing an inconsistent and unreliable service to your customers. Move this to an outsourced provider and you can instantly improve the service you deliver and generate better brand perception as a result.
Putting tasks in the right hands
You might be a business with a staff of one or you might be much larger. Either way, there is often some compromise to be made when it comes to who manages the deliveries. However, when deliveries are outsourced this pressure is removed and all those involved in the business are free to focus on core tasks that directly drive productivity and profits up.
Risk management
When you outsource your deliveries there is usually a transfer of risk that makes it easier to manage your own businesses' vulnerabilities at this time. Often it is the delivery provider that takes on the responsibility for the items in transit so the impact of tampering, loss or damage falls to the provider, as opposed to you. This can make it easier to manage risks within the business and also cut spend on costs such as insurance.
Making operations more cost effective
You might be using your own vehicles to make deliveries, or a wide variety of different shipping firms, with unpredictable results when it comes to cost. Working with a dedicated outsourced provider when it comes to your deliveries means that you can save costs such as fuel and maintenance if you were using your own vehicles. It also opens the door to the significant discounts that outsourcing deliveries can provide, particularly with a dedicated partner.
Expanding the services that you offer
Look at any consumer survey about shipping today and you will see that choice of services is rated high up on the list. You could expand the range of options that you can offer by working with a third party provider when it comes to deliveries. This could be anything, from super fast premium shipping through to a full logistics and warehousing solution. The end result is that you are able to give your customers more.
Generate a reputation for service
Consumers make judgments about the full cycle of a purchase process, from the point of buying something, to the moment it arrives. Outsourcing your deliveries to the right provider will help you to develop a stellar reputation for customer care, including a delivery service that is on time, flexible and reliable.
Contact UCS today to find out more about how we could help your business achieve all of the above.