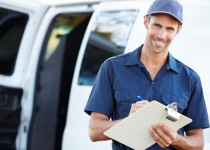 The UK postal and deliveries industry provides services to a wide range of customers – from businesses, to private customers or households. As more and more postal services are competing for these customers, it's important that the delivery service you choose to offer your customers is superior and meets their expectations. One important factor in doing this is ensuring that your provider offers great customer services:
Your courier reflects your business
Ultimately the delivery service that your customers receive when they order from you is an extension of your business. The level of help, communication and customer service provided should reflect your own high standards as a company. A bad experience can have detrimental effects on the overall impression your customers receive of your business. With this in mind, what are the expectations that you need to meet to impress your customers?
Have a polite, experienced courier
It's important to choose a courier service where those people who will be in contact directly with your customers are of a polite and friendly disposition. They must be polite, and trained to deal with any questions, problems and queries. These individuals will act as the physical connection between your company and the recipient of the order, putting a face to your business. If this face-to-face element of your customer service is outstanding then it gives you a more personal connection with customers, making them more likely to make repeat orders.
Fast delivery and options
Another way to ensure great customer service is to provide your customers with control over their delivery. This can be in the form of delivery time options, from same or next day delivery, 3-5 day delivery or longer, as well as perhaps even offering them a time slot if possible. This additional convenience is something that customers are growing to expect and will often pay extra for.
Reliable tracking
Customer service is not just about the sales process, but the delivery process on the whole. Keeping your customers informed of the status of their delivery at all times can give them peace of mind that their order is on its way, as well as allowing them to check the location of the parcel and likely delivery time through tracking. This is becoming commonplace for businesses, so it's important to follow suit and offer this too.
Communication and availability
Regardless of the rest of the delivery process, the most important thing is to give customers a way to speak directly to a customer services representative who can answer their questions. This needs to be easily accessible at a range of hours, and should be via a variety of methods such as a direct phone line or email address. Responding quickly to enquiries can increase trust and build customer relationships.
Representatives should be able to update customers on the progress of their parcel, expected delivery times, an explanation of costs and inform them of any issues with this whole process.
For more advice or assistance providing strong customer services as part of your delivery service, give the UCS team a call today on 08448 793229.