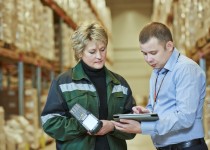 There are many reasons why companies choose to outsource their logistics strategy to a trusted partner. Here are the top 5:
#1 – Benefit from expert advice
On top of the initial cost savings, outsourcing provides insight and experience that your company may not have in-house. A logistics specialist will have enough expertise to best advise you on your current and future logistics and shipping plans. Your logistics partner will also be familiar with any health and safety issues, local and international selling regulations, and all other areas where there may be legal implications if guidelines are not followed. Their knowledge will help to prevent any problems.
#2 – Frees up time
Through outsourcing your logistics strategy, businesses can focus internally on their core strengths and tasks. Staff can focus their attention to prioritize the things that they do best, allowing them to work more efficiently and productively. And at the same time, you can rest assured that all your deliveries will be managed properly and delivered on time.
#3 – Distribution made easy
Your logistics partner will already have existing routes and methods for transportation of goods, and if they're partnered with a number of other companies, this will not be a significant cost to them. It will save you costs, and ensure the fastest and most reliable delivery methods to your customers.
#4 – High quality service
Unless you have particular experience, it's likely that a 3rd party specialist logistics provider will have a much more efficient way of managing your logistics. Their holistic approach will cover all aspects from the method of order, communication methods and tracking, and ultimately the delivery. Their expertise in national or international delivery can give a superior level of service and faster delivery times, as well as their couriers being trained to impress with great customer service.
#5 – Reliable delivery
Because you're outsourcing to them, your logistics partner is always held accountable to providing the highest levels of services. Failure to do so will end in their contract being terminated and they will lose out on partnering with you. This acts as a motivator to continue to always deliver on time and leave customers satisfied.
Find out more about partnering with a logistics company by giving UCS a call today on 08448 793229.