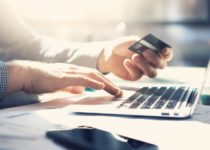 In just a few short years, eCommerce has grown to encompass the way businesses interact with their consumers. It enables faster services, online shopping opportunities, sales and discounts, as well as allowing businesses to experience growth at an unprecedented level: In 2016, the total revenue generated in retail through eCommerce reached €509.9 billion in Europe and $322.17 billion in the US.
Ecommerce is on the rise
Given the statistics we just mentioned and the favourable broadcast of expected sales, it is easier to consider eCommerce as having taken the lead from traditional options. For new businesses, it has become a valid question to ask if it is even worth having a shop or not, since orders can be made online and delivered conveniently to the customers' homes, instead of being restricted to buying in store. This can cut down on storage costs, and some businesses choose to have a sole online presence without the running and maintenance costs of having physical shops.
Depends on the Sector
eCommerce has shown major boosts in sales but these have been limited to certain sectors. The following sectors experienced a large amount of sales in:
Retail and clothing
Food and Drink
Electronics and Home products
Travel and Real Estate
On the other hand, there are various sectors that do not earn as much of a profit through eCommerce at all. The pharmaceutical and law sectors and various others are not impacted by eCommerce in a major manner, so there is no such a demand for these services to be fully online.
Establishing Credibility
For people buying online, it is imperative to know that they are working with a credible business. The lack of security and credibility makes it possible for scams or fraud to occur. However, customers may feel more comfortable buying from known retailers online. Businesses that are launched completely online have to resort to extensive measures to educate their consumers and create an impression of trust. With a store, there is a certain security that businesses can offer that is not always possible to offer through eCommerce.
Work Well Together
When it comes to choosing between eCommerce and the High Street, it is important not to choose between them. In fact, businesses have experienced the largest amount of success when they have used eCommerce in conjunction with their stores.
The click-and-collect option is one that has become exceedingly popular, allowing consumers to buy the product online and then go to pick it up from the store since it helps one bypass the delivery and shipping charges. The click-and-collect trend improves sales since there is a 25% chance that consumers coming to collect the package will make another purchase.
Whichever approach any business decides to take, there are deliveries to be made – whether these are directly to customers from an online purchase, to click-and-collect, or to deliver to the shops initially from a central warehouse.
UCS offers a unique warehousing and delivery service which combines to two for a streamlined process and faster deliveries. Get in touch today to discuss these options for your business.