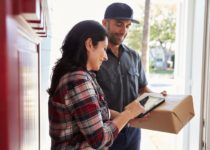 Businesses selling products across any sector will use delivery services of some kind. Online customers don't have an in-store experience of your brand where they communicate with anyone from your company, so their online experience combined with the actual delivery experience is what creates their overall impression of your brand.
Fast, reliable delivery
Did you know that 85% of people that buy products online now expect to be able to choose same day delivery on their order? This is creating more competition between big brand names and smaller companies, as the offer of more convenient delivery times, or greater choice, are beginning to become the customers' choice.
Ongoing tracking and communication
Many customers use the tracking facilities provided when placing an order to see where their item is, and when it is dispatched. For some customers, they may prefer text or email updates, or even a call ahead of their delivery to ensure that they will be there to sign for it and prevent redelivery on another occasion. This can make the difference to your customers, and assure them that their individual order is important to you.
Customer service and support
If there's a problem with an order, or the customer has a question to ask, your customers can get even more frustrated if they're unable to speak with someone quickly on the phone. Long waiting times and unanswered questions can leave customers with broken trust, but highly available customer services where customers are able to speak directly with trained representatives who have access to information about their order can create a lasting positive impression of your brand and services.
Face-to-face impressions
Since online orders gives very little space for direct customer contact, often your couriers and delivery drivers will be the only face-to-face contact that your customers have with your company. This is therefore extremely important to get right. Couriers should be trained to be helpful, take time to greet your customers and confirm their delivery, and give a generally friendly impression which is in line with your in-house customer service policy.
Building lasting relationships
All of these things contribute to meeting your customers' needs through your delivery services. Impressing your customers through your delivery services lead to lasting relationships and repeat orders, as well as recommendations.
If you're looking to outsource your delivery services, get in touch with UCS today on 08448 793229.