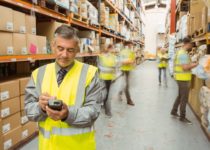 If there's one time of year when order fulfilment needs to operate at maximum efficiency, it's the run up to Christmas. This is without a doubt one of the busiest periods in the calendar for many businesses and if order fufilment just can't keep up it can be disastrous for Christmas profits – as well as ongoing reputation. But how do you reconcile the need for increased support for just this short period with the requirement to keep annual budgets low? Outsourced order fulfilment is a smart and simple solution, so how can it help you this Christmas?
Provide your customers with a better service
Whether you're sending out gifts or essential office supplies this is not a great time of year to start delivering late or missing deadlines. Everyone is on a tight schedule in the run up to Christmas and so the more efficient your fulfilment is the more impressed your customers are likely to be. Outsourcing this ensures you hit service levels no matter what else is going on within the business and your customers will get a better experience as a result.
Cut your costs at the busiest time
If you're going to have a large volume of shipments to send out then it makes perfect sense to outsource order fulfilment to take advantage of this. It's usually cheaper to use order fulfilment, whatever the season, but during the festive period when deliveries increase significantly there are even greater savings to be made. The more you ship, the more the individual price per delivery drops, so take advantage of this opportunity to save per package.
Helping you to optimise your team
Perhaps last year, the festive period was a constant struggle just to stay afloat and to get orders out of the door on time. This year, if you opt to work with outsourced order fulfilment, it could be a very different story. Instead of getting caught up in the annual spiral of stress, hand over the logistics to an efficient third party so that you and your team can concentrate on the other opportunities that arise at this time of year. Order fulfilment is a very labour intensive process and if you don't have to deal with the additional Christmas burden then you could make great strides in strategy, client acquisition or creative instead.
Avoiding inventory confusion
It's easy for inventory data to get lost in the craziness of the Christmas rush. The result could be disappointment for customers or great expense for your business in trying to fulfill orders that you didn't actually have the stock for. Working with outsourced order fulfilment ensures that inventory is trackable, transparent and up to date in real time – essential if you want the Christmas rush to be a smooth one.
Don't just keep up with your Christmas orders this year – exceed all your customers' expectations. Outsourced order fulfilment services can provide the support you need to have a stellar year end.  Get in touch with UCS today on 08448 793229 to see how we could help.