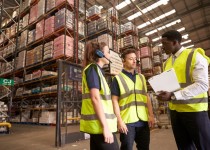 As we've previously explored, there are a number of problems that businesses face regarding supply chain management throughout the order-to-delivery process. More and more businesses are beginning to explore the idea of outsourcing their supply chain management to trusted logistics partners. This can enable them to stay ahead of competitors as they focus on their in-house skills and benefit from the following:
Great communication and clarity
Outsourcing your supply chain management will create a clear relationship between yourself and your provider. They will be able to implement your requirements to suit your customers' needs, and are guaranteed to deliver a high quality service as they are working for you and under your brand. Your customers will be unaware that there is any third party involved in making their delivery, but they will be able to implement a plan to ensure the best service possible, which can help you to stay one step ahead of your competitors as your brand reputation grows.
Expert team knowledge and experience
An experienced logistics company will have experience in shipping to different parts of the country, internationally and understand the requirements for packaging different objects. They will have expertise about how different items should be shipped, how weight and size affects costs, and the expected delivery time frame. All of this can give your customers a more accurate depiction of their order and how long it will take for it to be delivered. Increasing the reliability of delivery times, and ensuring that all parcels arrive in premium condition, will all encourage customer retention and good reviews.
Streamlined processes and automation
The delivery services will have a clear structure and plan. Each process will be streamlined, which is where technology and automation play a huge role. Instead of manually managing each order in-house, your supply chain manager will be able to provide unmatched order-to-dispatch speeds.
UCS has a system which will integrate with our partners' existing platforms and online websites whereby as each order is placed, UCS is directly notified and can begin the packaging and shipping process immediately. This eliminates the processes in between and provides an excellent shipping speed that will put you ahead of your competitors. Since more and more customers are now looking for Next Day or Same Day delivery, this is something that will keep your business on top of customer demands and make customers more likely to buy from you.
Discover more about how UCS could increase the efficiency of your supply chain management and give you an advantage ahead of your competitors, by giving us call today on + 44(0) 8448 793229.