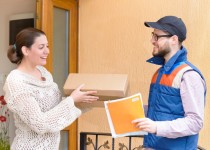 Logistics is at the centre of every business, from in-house ordering processes to making deliveries, whether this is on a local, national or international scale. There are a number of stages involved in the storage and distribution of products, from information flow to security in transit. The final leg of this process can face a number of issues, from the point where the order is made for the final product, to getting it to the recipient. So, what are some logistics issues that are faced at this stage, and how can they be overcome?
Keeping delivery costs down
The cost of delivery isn't just down to getting the parcel to the recipient – it also encompasses other costs such as storage, warehousing, packaging, manufacturing and paying the courier to take the parcel. Costs can be reduced by sharing deliveries with other orders to main distribution centres with established delivery routes to reduce fuel costs with a streamlined process and shared warehouse.
Facilities management
Having a large storage facility means a huge cost, especially when this is not full at all times. Businesses need to be flexible and upscale/downscale when they can, to meet demand. UCS offers warehousing and facilities management to ensure that businesses using them as a logistics partner not only minimise costs, but benefit from organised facilities management and a streamlined order to delivery process.
Reducing delivery delays
There's nothing that annoys customers more than having to wait longer than anticipated for their delivery. The most efficient delivery services will offer delivery time-slots on specified dates to avoid customers having to wait for a long time for their delivery. Any logistics partner you use will be giving an impression of your business to your customers.
Efficient processes means reliable delivery
Giving reliable indications of delivery times will give a strong impression and increase the convenience for their order, ensuring that it is delivered at the first attempt and that they won't need to go and pick it up from anywhere else. Fast and reliable delivery times mean that your customers are more likely to make repeat orders.
Security concerns
Security is a concern for all businesses when shipping products. Every order must arrive in perfect condition without being tampered with, to avoid unexpected costs to replace damaged orders, as well as a damaged reputation. It is therefore vital to use couriers that you can trust and who have experience. Putting your trust in a logistics partner like UCS will give you the benefit of experienced couriers making the deliveries for you, giving you peace of mind that every order will arrive exactly as expected, every time. This will increase trust from your customers and build a strong brand reputation.
Find out how UCS could help to keep your customers happy and overcome the logistics issues that you're facing by getting in touch today.