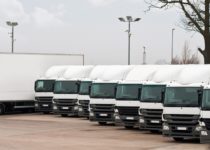 With growing awareness of global warming, more and more companies are taking more and more responsibility to reduce their C02 emissions during the delivery process. With multiple vehicles or mass orders being made, it is important to examine each element of your delivery services to see how your fleet could be made more efficient in the long-term and reduce C02 output over time. There are 2 main ways to do this:
Address your delivery service requirements
Firstly it's important to address what your service demands are and what you need to meet these customer expectations. This also applies to understanding your costs requirements and reputation as a business. This can be broken down into different areas:
Current and future demand
Over time, businesses encounter many different options in regards to how they manage their delivery services and provide goods to their customers. Transportation capabilities must also adapt to meet growing orders and faster journey times where possible, whilst managing their environmental impact at the same time. It's essential to look at the bigger picture to identify where things can be delivered more efficiently, such as combining journeys where multiple vehicles are currently being used.
Making improvements
Sometimes upgrading your vehicles is an effective way to reduce emissions. Choosing vehicles that can either carry more deliveries in a single trip (and therefore sharing the emissions between the items in that single journey instead of many) or selecting vehicles that comply with C02 level requirements can be ideal to assessing your exact impact and how you can ensure your delivery services are greener. Create performance indicators and monitor your emissions to ensure that you're getting the best results over time.
Sharing transportation methods
Do you actually need a whole fleet of vehicles or could you reduce your emissions by better organising journeys for fewer vehicles? Could you share deliveries with other companies or use a courier service to minimise your C02 emissions as a company? Outsourcing your delivery services is a great way to reduce your C02 emissions since many companies will use the same provider and journey-share. This not only reduces emissions per delivery, but it also cuts costs.
UCS specialise in delivery services, from complete warehouse management to simply delivery services. They pride themselves on reducing not only costs for their customers, but faster delivery times by our friendly couriers. Journey-sharing, as couriers do for multiple companies, is one of the most effective methods to ensure that your deliveries are made in the most environmentally-friendly way possible.
Find out more by getting in touch with UCS today on 08448 793 229.