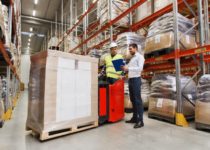 Ecommerce is growing globally, with 95% of British people now estimated to buy goods online. This means that when you're storing and shipping goods, it's important to have an efficient supply chain that can meet your requirements as your business scales up to cater for more and more orders. Here are some tips for best practice warehouse management.
Sort and combine orders
Sorting orders is a great way to streamline your warehouse management and make it more efficient. This is true both at warehousing level and during the delivery process, but sorting orders together from the outset can reduce the sorting process later on. If you can accommodate multiple orders in one collection then this can reduce time and costs.
Automated tracking systems
Automation is now playing a big part within warehouse management, as systems are able to scan, identify, sort and track parcels automatically. As these stages become automated, the process is faster than human handling, with lower margin for error. This can reduce costs as machines are able to sort parcels, allowing them to be moved as required ready to be packaged and sent.
Information, information, information
However you manage your warehouse, you should ensure that each order is traceable from the time the order is initially placed, right through to delivery. This enables you to see the progress it makes, check the delivery time is right and provide an overall better delivery service to your customers for greater satisfaction. Many companies allow this tracking data to be available directly to their customers too, who can check on their order and receive updates about delivery times for ultimate convenience.
Scalable warehousing
More businesses are now exploring the option of outsourcing their warehousing, due to changes in demand for orders. It makes little sense for businesses to have a larger than necessary warehouse for the rare times that they are left overwhelmed with demand. This can be the case at certain times of the year such as Christmas or if their product is popular for a set period of time with an offer available. Warehousing requirements cannot be scaled up and down easily, so often outsourcing can be the cheapest and most efficient way to deal with changing order numbers. UCS are proud to offer complete warehouse management services to our customers.
Get in touch with UCS today to discuss how you could manage your warehouse more effectively, by calling our team on 08448 793229.