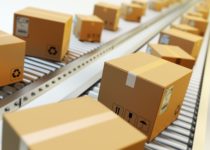 Automation is a growing part of many industries, from automated processes to personal notifications. It can relate to many stages of distribution, sorting and data management, but how does this filter through into your warehousing?
Technology is evolving
As technology evolves, automation is becoming a key feature of many businesses. Sorting items via machines instead of human workers is increasingly popular as it reduces handling times and allows for faster deliveries. It also reduces the likelihood of errors in sorting, since it relies solely on computerised identification which is automated to direct parcels in your warehouse along specific conveyor belts depending on the location they are going to.
Faster dispatch times
Automation is set to revolutionise warehousing, since it dramatically reduces the processing time as automated systems are able to work much faster than humans. All orders can be managed centrally through the operating system, and this makes locating the parcels easier initially too. It tracks each parcel throughout its journey and records all the orders leaving the warehouse. All of these factors allow a faster dispatch time which can lead to overall greater customer satisfaction.
Reallocation of resources
Using automation technology can lower costs in the long run, since fewer staff members are required to do the original jobs, that machines can do much more quickly, and they pay for themselves over time. The good news is that this doesn't just cut costs in-house but it also allows you to pass these cost savings down to your customers and reduce pricing for them if you wish. Staff members who were previously working in these sorting jobs can take on new, customer-facing roles to ensure that a direct point of contact is still maintained to give the best customer services.
Other areas of automation within your business delivery services
As well as warehousing benefits, there are other elements of your delivery services that can be improved by automation too. For example, automation can aid communication with your customers, which is something that more and more businesses are now starting to use. This can include things like text and email messages letting customers know that their parcel is out for delivery and what time to expect it. Automation here is a fantastic example of how you can build stronger customer relationships by providing a more flexible and convenient service for them.
Fully managed warehousing and delivery
UCS offers a fully managed warehousing service to our customers, meaning that we can take over the entire storage, management, packaging and distribution of products. Details of all items are recorded, and our automated software guarantees little to no handling errors, so that all orders are picked, packaged to send and dispatched within the specific timeframe required.
If you want to know more about our warehousing services, give the UCS team a call today on 08448 793 229.