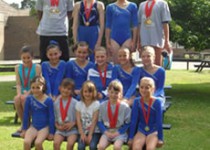 UCS are proud to be able to assist with sponsorship for Tilehurst Gymnastics Club's local competition.
Tilehurst Gymnastics Club was started in January 2009 and currently has over 300 members aged 3+ in the club section and 250 in the extracurricular schools section.
They often compete in Regional competitions and at an invitational comp this weekend they did brilliantly with 14 gymnasts taking medals across 3 different events and 5 team members winning the age group champions.
On Saturday 23rd July they are holding their in house competition where the gymnasts have a chance to compete against one another for trophies and also display all their skills. The top 3 overall gymnasts in each category of this competition will be representing the club in the next Regional competition in October.
If you live in the local area and wish to support or even join please go to www.tilehurstgymnasticsclub.co.uk