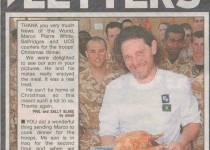 UCS answer the call from Marco Pierre White to give troops the perfect taste of Christmas!
When he decided to show his support for the troops in Iraq by cooking them Christmas dinner, celebrity chef extraordinaire Marco Pierre White had only two concerns…firstly, would he get shot?! And secondly, how on earth could he get enough fresh ingredients to cook for 50 soldiers out to the remote base camp in Basra without any issues?
Step forward Bracknell based courier company The UCS Group.  Renowned for their 'can-do' attitude and with a client list including the likes of communications giants Cisco and Hewlett Packard, they immediately set about the task.  Working in conjunction with Selfridges and British Airways, UCS were able to arrange the clear passage of all the goods to the war torn city with Operations Manager Richard Mansell personally accompanying the shipment to Kuwait before handing over to a military escort for the final leg of the journey.  'There's always an element of risk with projects like this, not only due to the dangerous nature of the environment we are entering but also due to the tight schedule involved.  A number of the goods were extremely perishable and in order for Marco to be able to prepare the meal in time there was absolutely no room for error,' said UCS Managing Director Wayne McDonnell who generously agreed to waiver all costs for the cause.
Once everything was in place Marco was able to focus on doing what he does best and treat the troops to a delicious Christmas dinner that did as much for their stomachs as it did for their morale.  'It can be tough, especially at this time of year.  So something like this is really great for us.  It makes a big change from rations.  It just felt like Christmas,' said Pte Steve Burnham, from Hull.
Once the mission was complete and Marco was satisfied he had delivered a meal worthy of heroes he was quick to praise UCS and their efforts.  'The food arrived in first class condition and they did a great job getting it here on time considering the circumstances.  I couldn't have done it without them.'
The UCS Group
The UCS Group was established to offer a complete transportation solution to companies involved in the international distribution of product throughout the world and has been providing the highest quality courier services throughout the UK, Europe, the USA and beyond for over 18 years and can count the likes of Cisco Communications, Fujitsu, Alliance Foods, Heinz and Hewlett Packard amongst their loyal clients.  Whatever the clients delivery needs, whether they be UK based or International, UCS offer some of the fastest transit times currently available in the express market to over 200 countries as well as offering specialist services including storage, packing services and exhibition logistics at highly competitive prices.  Having developed their own in-house software which creates a almost entirely paperless process from the moment the order is made to the moment the product is delivered the company is also constantly striving to be as 'green' as possible in an industry that often struggles with the demands of being seen as environmentally 'friendly.'
Priding themselves as the 'couriers with the personal touch', UCS are fully committed to meeting their customers needs and as founder and MD Wayne McDonnell says 'If the questions asked, we can find the solution.'