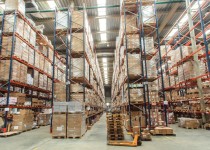 Regardless of their size, companies are finding themselves transporting goods and materials around the globe. However this can be made difficult because without the correct inventory, management and transportation, the materials and goods won't make it to their destinations, whether that's to a factory, warehouse or direct delivery to the consumer. For companies that don't specialise in handling logistics, getting all their goods and materials delivered to the correct place, on time and within the budget constraints is a priority, so companies can look to outsourcing their logistics. Here are the top 3 reasons to outsource your logistic strategy.
Saving cash
Having logistics strategy 'in house' can prove to be a costly approach because you may not have the right connections in place to make it worthwhile. However using a logistics company's service is typically much cheaper than keeping logistics 'in house'. This is because experienced couriers and logistics companies will have unique relationships with a network of transportation providers, who are able to offer transportation for high volumes of products on a regular basis, qualifying these companies for a discounted rate.
Gaining access to advanced logistics technologies
Third-party logistics providers stay on top of the latest advances in logistics, inventory and asset management, helping customers to remain competitive against other companies in the same industry. Companies outsourcing to logistics providers will be able to obtain expert advice, a high level of support, and cutting-edge logistics software which can be tailored for their own use. Partners can also benefit from the provider's sophisticated IT system, which will help them to deliver better efficiency and the ability to have access to real-time data, which can also be passed on to the customer.
Benefit from specialist expertise
Using an 'in-house' logistics strategy will not only cost you financially but it also will cost you in time and potentially credibility. For example, not having the right expertise will mean your logistics strategy will not be as efficient and streamlined as it could be. Having an experienced third-party logistics provider that can work in partnership with your company can result in significant savings, whilst increasing efficiency. This is a result of having a specialist analysing your logistics, inventory, management and transportation needs and being able to determine the best approach to meet the needs of your company.
What to consider
Outsourcing your logistics needs can bring significant benefits for your company. You will need to choose a provider that is able to give you the highest support and experience. Some of the factors to consider and look out for when choosing a specialist logistics provider include making sure the provider can be flexible. Can the company meet 'on demand' transportation notice and does it provide a wide range of options in terms of transportation, delivery times and costs? Another factor to consider is capacity; can the provider definitely handle the volume you anticipate?
Find out more about outsourcing your logistic strategy costs by getting in touch with UCS today. Call us today on +44 (0) 8448 793229