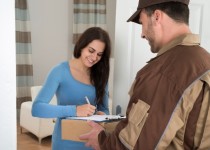 To achieve complete customer loyalty, businesses must address the following areas: reducing delivery times from the point of order, efficient supply chain management and building customer trust. Time and resources must be used to ensure the greatest customer satisfaction is achieved.
Satisfaction leads to loyalty
Customer satisfaction not only means that your customers have a positive experience, but it also leads to greater customer retention and loyalty. There are a number of things businesses can do throughout the delivery process to work towards customer satisfaction. Communication and access to information is a fundamental part of this. Technology allows parcel tracking, which is recognised and expected by customers. This means that they will always be aware of where their order is and the delivery status, as well as updating them about delivery times to make the process even more convenient for them.
Great customer service helps create repeat orders
Sometimes customers will have questions about their order, or want to order over the phone. If they want to know the progress of their order, or have questions regarding the delivery, having a team of dedicated professionals available to answer these queries will instill confidence in customers. This will encourage them to come back and become repeat customers.
Increasing profit through reputation
Positive customer experiences means gaining a great reputation. Over time, the services that you provide will create brand credibility and high customer expectations, as customers share their experiences and leave reviews. Ultimately this results in increased business for you, through repeat orders.
Help achieving customer loyalty
Customer loyalty ultimately comes down to the service that you deliver – right from the order to the final delivery of goods. This depends on your business having a strong logistics strategy, with clear customer communication. Bringing fast delivery times alongside great availability and reasonable costs can be tricky, combining a huge number of elements to create an overall plan for customer satisfaction. This is where a logistics partner comes in. Logistics specialists like UCS can help you to take control of your deliveries and provide the best end-to-end services to your customers as possible.
Find out more about how we can help you to increase your customer loyalty through great delivery services by getting in touch with the UCS team today.